Reclaimed old growth Douglas fir timbers are enormously popular with home owners, builders, and timber-framers due to their handsome appearance, robust durability and stability, well-rounded usability, and surprising cost-effectiveness. These heavy timbers represent the character of historic North American architecture, having enjoyed their first lives holding up and accenting homes, factories, barns, gymnasiums, stadiums, and other timber-framed or post and beam structures across the United States and Canada. 
Old growth Douglas fir wood are prized for their dramatic and tight growth ring patterns and low vertical grain runout. Dark rings overlay rich hues ranging from red to golden brown. Reclaimed historic fir wood has a unique inner glow that took decades to develop during a natural air drying or "slow curing" process. Surfaces are aged with beautiful golden brown patina. Saw marks, nail and bolt holes, and natural wear also contribute to the aesthetic and timeless character of reclaimed old growth Douglas fir. 
Amazing Durability and Usability
Old growth Douglas fir trees often lived for a thousand years before being logged. These evergreens slowly grew to exceptional sizes in virgin forests that were relatively free of pollutants. As a result, old growth Douglas fir wood that is properly vetted by reclaimed wood experts is stronger, harder, and more stable than quickly produced new growth lumber. Tight growth ring patterns and high ring counts greatly contribute to old growth Douglas fir's durability and stability. Because these trees grew extraordinary thick, large sections of wood can be cut free of heart center (FOHC), resulting in finished projects that are much less vulnerable to checking, cracking, or splitting. Structures built from old growth Douglas fir are known for standing up well against forces of nature, such as extreme winds and earthquakes. 
Originally used for heritage barns, factories, and other large structures, our Douglas fir timbers have naturally air dried over the course of many decades—as opposed to being kiln dried—and thus retained the integrity of their natural resins and cell structures. Unlike modern industrially produced lumber, there is little chance of movement or shrinkage after installation with high quality reclaimed old growth Douglas fir wood. It's ideal for load-bearing applications because of its high strength to weight ratio and has outstanding nail, bolt, and plate holding abilities. Reclaimed old growth Douglas fir timbers are also much more readily available in extremely large dimensions that are nearly impossible to find in the modern new growth lumber market. Even if one is able to find massive dimensions at a lumber mill, chances are there will be long wait times for special orders, higher prices, and limited quantities. Because of all of these virtues, many carpenters and timber-framers prefer working with reclaimed Douglas fir over conventionally milled new growth lumber:
Stronger, harder, denser

Tight old growth ring patterns

High strength to weight ratio

Less vulnerable to shrinking, cracking, or splitting

Extremely large dimensions allow timbers to be FOHC

Naturally air-dried for greater stability and vibrant "inner glow"
Environmental Responsibility
Lessening environmental impact by saving the large, straight trees best suited for timber framing is also significant motivation for many timber framers and architects. With environmentally responsible architecture growing in necessity and popularity among designers and builders alike, old growth reclaimed timbers provide a perfect balance of old world character, strength, usability, and sustainability.

*Many of our products, including reclaimed Douglas fir timbers, are eligible for LEED points.
A common misconception is that reclaimed old growth wood is more expensive than recently logged and milled new growth lumber. Our reclaimed materials are not only competitively priced, but are also available in larger sizes. Finding large new growth timbers is not only extremely difficult, but might also involve a long wait. Furthermore, the harvesting of old growth Douglas fir trees has virtually ended in the United States and Canada due to strict protection laws. 
Old growth Douglas fir is regarded as one of the most attractive kinds of wood in the world. It's no surprise that most of our customers showcase it in both internal and external exposed architecture. Popular reclaimed uses include: 
Interior and exterior posts and beams
Narrow and wide panel flooring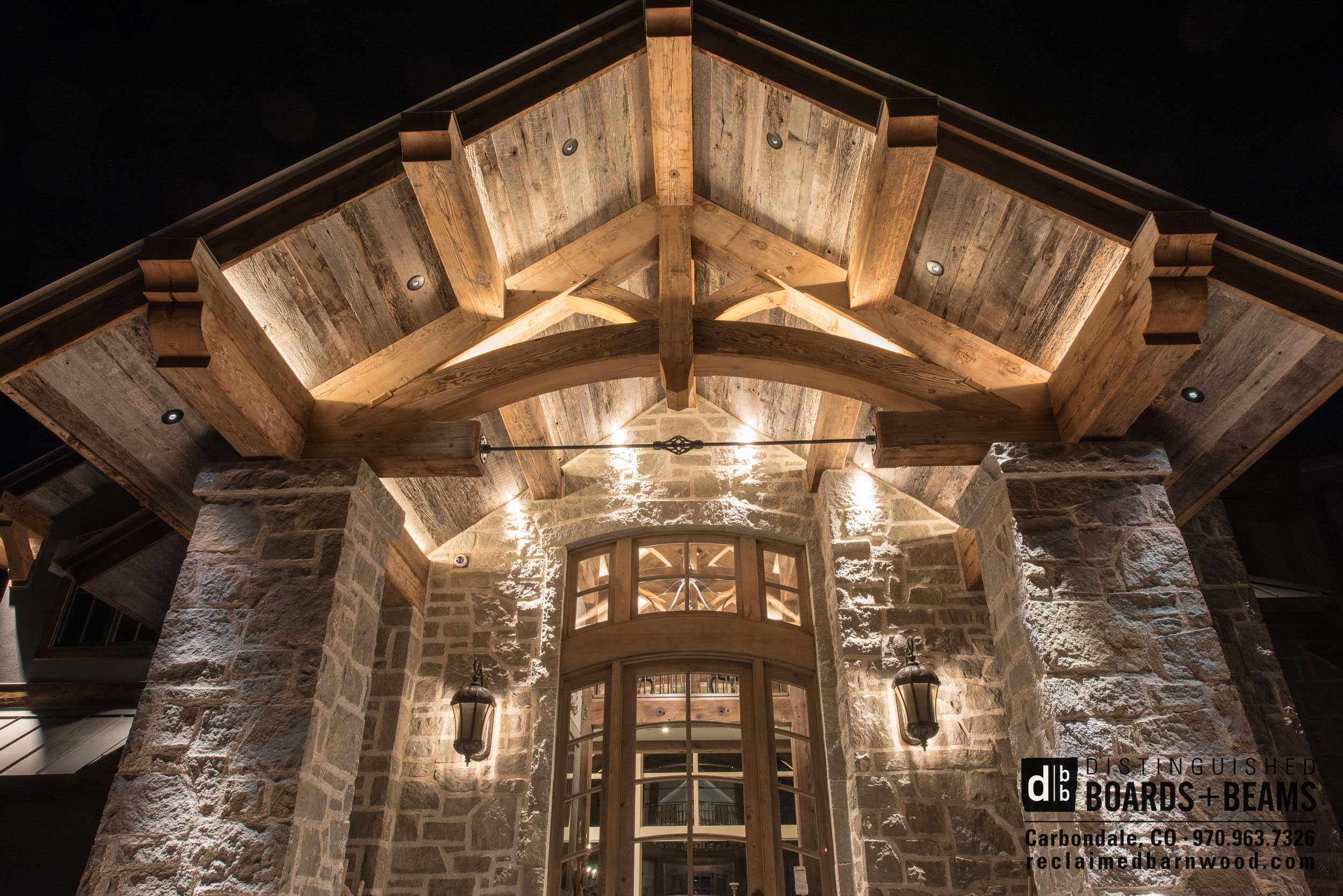 We have a large inventory of reclaimed Douglas fir timbers and beams that range in thicknesses and widths from 2" x 4" dimensional lumber to giant 28" x 42" heavy timber beams, with lengths ranging from 9' to 50' or more. Custom dimensions are available upon request. A variety of surface finish options are available, and we can help you chose the most appropriate finishes for your project.