Looking to showcase the timeless character of reclaimed barn wood in your next project? We have the products and production that you need, with the expertise to make your vision a reality.
We maintain an extensive inventory of a wide variety of high quality, authentic, reclaimed lumber. Our staff oversees every step of the reclamation process, from acquiring the wood to utilizing our own in-house kiln drying and custom milling. This makes us uniquely qualified to work with you from start to finish on both residential and commercial projects on any scale, on budget and on time.
The quintessential barn wood product with character that loves to clad exteriors and interiors alike. We offer multiple colors, surface finishes, and milling profile options to suit your project's needs.
Milled from the same barn siding boards used for exterior applications, interior paneling clads the ceilings and walls of a range of architectural styles, from luxury homes to retail stores. Unlike exterior siding, interior paneling is often given a fresh surface finish or wire brushed. Tongue and groove or ship-lap profiles make tight fitting, seamless joints that show off the unique character of each board.
Barn wood is the key ingredient for beautiful flooring. Barn siding boards are given a fresh surface finish and a milling profile to showcase the old growth character of North America's first forests. We offer a variety of species and surface finishes to suit your project's needs. Choose a rustic or clean look, while maintaining original and authentic character. Unlike anything produced from new growth, old growth lumber has distinct characterizations. Choose from four surface finish options: True Grit 100% Original, Rustic 50% Original, Natural 25% Original, and Timeless 100% Clean.
Hand hewn timbers and beams are some of the most coveted wood products in the world. Staggered score marks on a timber's surface from where an axe chipped the log's round edges away maintain visual reminders of the pieces' architectural heritage. We stock hand hewn oak, ash, elm, beech, poplar, heart pine, yellow pine, northern white pine, and tamarack.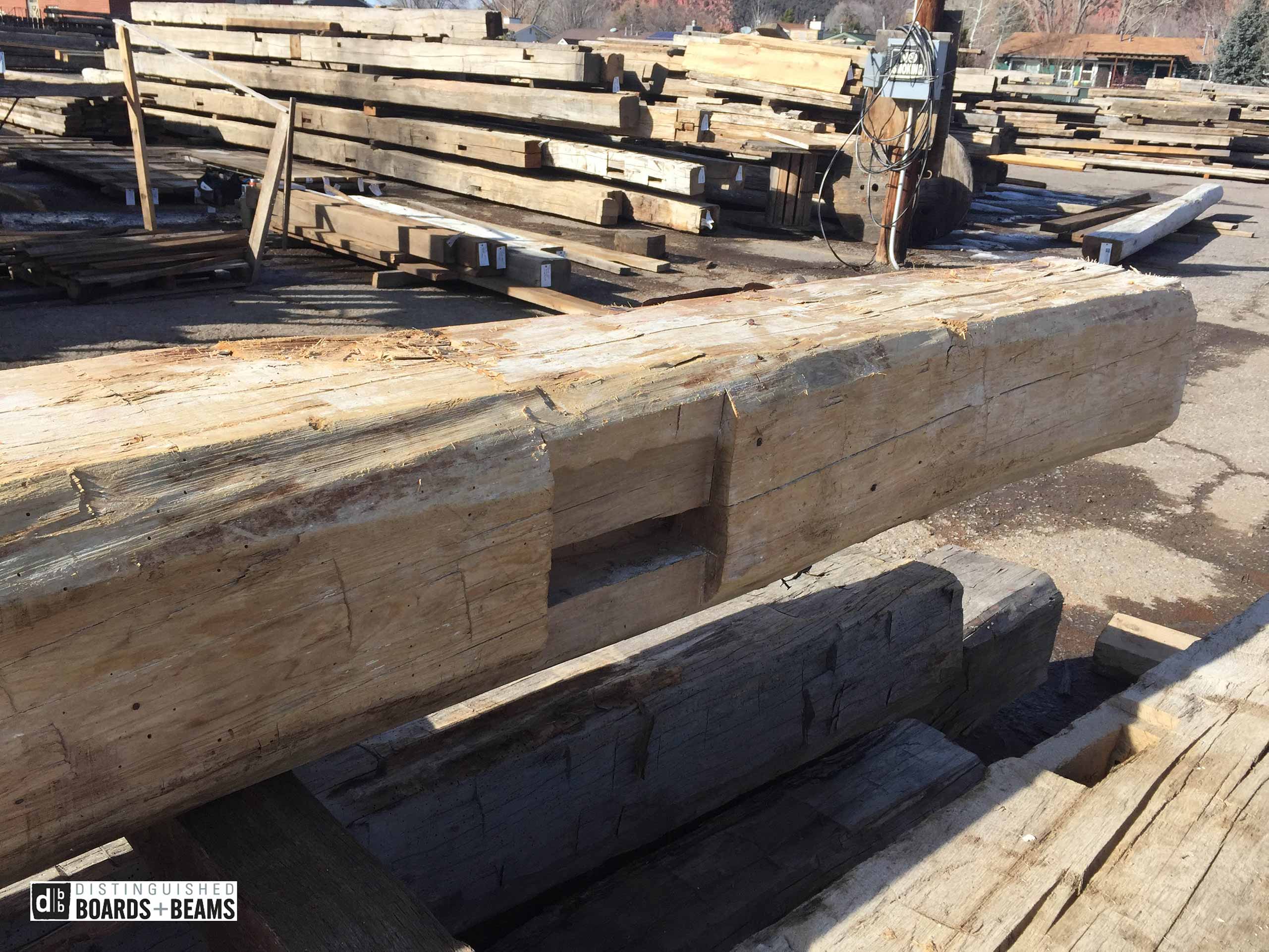 Home and business owners, architects, timber framers, and contractors all appreciate Douglas fir for its well-rounded usability, cost-effectiveness, and aesthetic appearance. Decades of natural air drying bring out the stunning wood tones and old growth rings of these heavy timbers.
Dimensional lumber ranges from light to rich chocolate brown with visible circle or band saw marks. This material is excellent for framing, siding, base board material and window trim for both interior and exterior applications. Dimensions are as follows: 2" X 4-12", 3" X 4-13", and 4" X 6-16".
Do you have clients who love the rustic and historical appeal of reclaimed hand hewn wood? If so, a reclaimed heritage log cabin may be worth considering. We have seen historic cabins restored as entire wings of or additions to luxury residences or even reassembled and featured as part of the architectural design inside a Twitter office building. Our professional reclamation processes ensures that your hand hewn cabin will last for many more generations to enjoy.
If you can't decided on which barn wood product to use in your project, then why not just buy the whole barn? Architects and homeowners are doing amazing things with complete barns, remaking them into modern architectural gems with a direct connection to our agrarian past.
The roof of the barn that developed a color-rich, texturally pleasing patina as it was exposed to the elements over the years. It will have different levels of rust throughout each piece. We offer corrugated and v-notch rusty metals. Each section is aged with varying levels of rusty patina for a vibrant and unique palette for your project.
Currently in our inventory we have a rare hand-carved traditional Joglo home that will make the perfect meditation or retreat pavilion, pool cabana, or addition to a home or business. Originally from the city of Kudos in Central Java, the home is in exceptional shape for its age, which is estimated to be 150-200 years old. Its roof composed of stepped beams with intricate carvings was done in what is known as the Sung Ging style, recognized as the finest form of woodworking in Java and historically associated with nobility or aristocracy. Kudos has a renowned carving tradition stretching back to the 15th Century, and we chose to add this authentic Joglo home to our inventory because it is unique in the quality of its carving, its detailed architecture, and its preserved condition.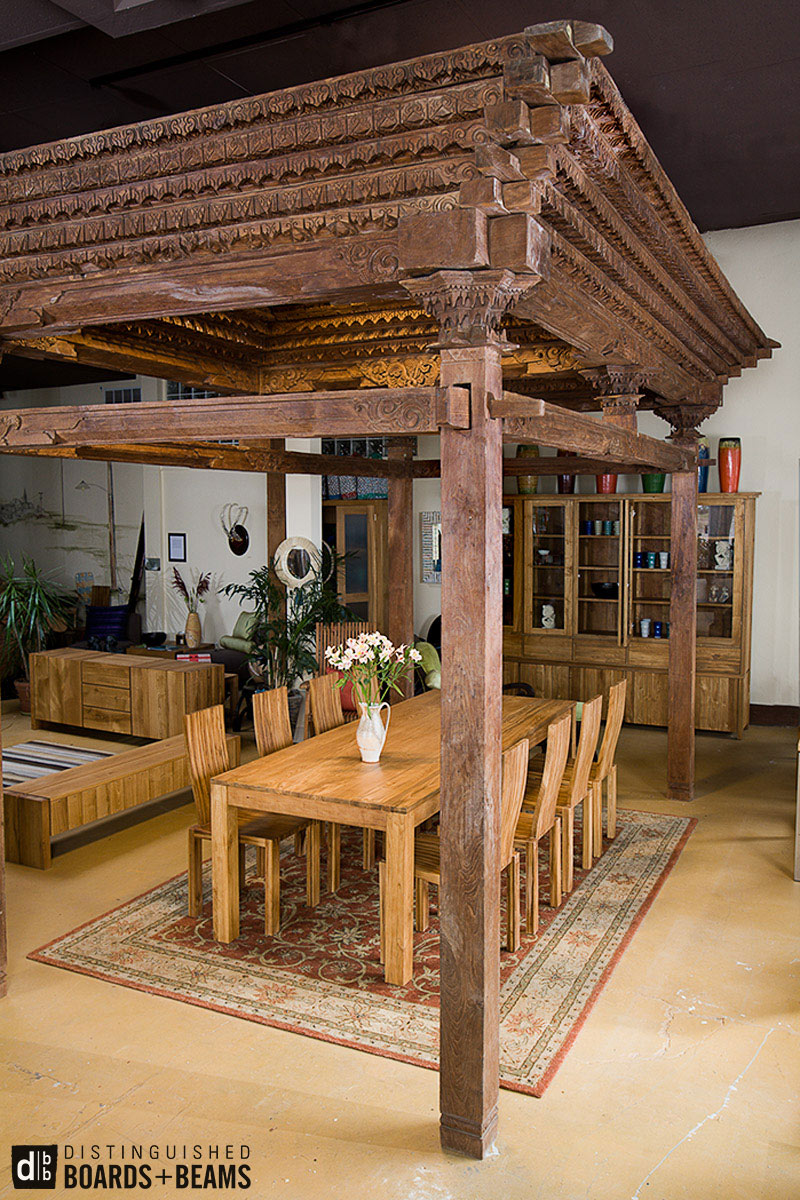 In House Production Services: Custom Milling and Kiln Drying
Our state of the art in-house milling facility and expert production staff offer a number of custom milled profile and surface finish options to suit your project needs.
All milled materials are first thoroughly de-nailed and then kiln dried to ensure cooperation with our machines. Kiln drying sterilizes the wood and kills all insects while bringing moisture content down to 6% - 8%; this prevents shrinkage after installation.